Modern Bedroom Design Ideas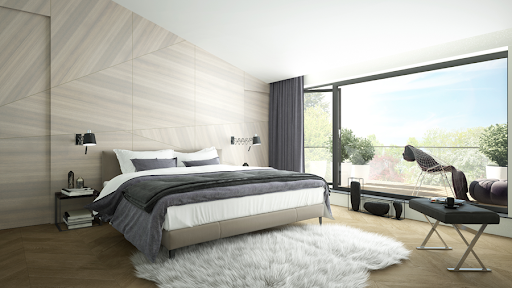 Many people are unaware that the terms modern décor and contemporary décor mean different things. The first refers to a specific type of design or aesthetic. 
As the term modern implies, this style of design coincides with recent periods of time. However, modern design has become so popular that it had developed a unique style all its own.
Contemporary design describes current aesthetics and online trends, bringing it into the present moment. The term contemporary design can mean different things in different eras.
Shag rugs that were so popular in the 1970s were contemporary for the time but would seem hopelessly outdated to most people today. With those descriptions out of the way, keep reading for ideas on how to incorporate modern design into any bedroom.
Choose Natural Tones and Textures
Modernism and minimalism tend to go together, at least so far in the early 2020s. Some people may look at these combined styles and see a room that looks cold and uninviting, but this need not be the case. Choosing natural finished and warm neutral colors makes for a much more welcoming environment.
When choosing wood pieces for a bedroom, people should bypass stained wood in favor of natural wood grain with a clear coat if they're going for a modern look. Some popular choices here include teak, mahogany, oak, and ash. Walnut can also be a good option, especially for bedrooms with cool undertones.
Furniture and other items made from natural woven fibers are also quite attractive in a bedroom. Potential choices here include:
Bamboo shades
Blankets
Jute rugs
Natural linen bedding
Rattan chairs or screens
People who prefer modern design often choose sheepskin, leather, or shearling due to the natural softness each one provides.
Artwork Can Make or Break a Modern Look
The bedroom is the most private, intimate area of a home and a place where people can truly reflect their own style. Hanging a few paintings on the wall by favorite artists truly brings a bedroom to life and reflects the personality of those who spend about hours a day in that room.
Funky Wallpaper Can Really Set the Tone
Standard boring wallpaper will never do when a unique and modern look is the desired outcome of revamping a bedroom. Homeowners have the freedom to choose any wallpaper they want, whether it matches the décor of the rest of the home or not.
Large, bold, and colorful patterns are especially popular in this era. People who resolve to have fun with selecting their new wallpaper won't feel disappointed with the result.
Forget About Box Springs and Standard-Sized Bed Frames
The bed is the focal point of most bedrooms due to its large size, whether people want it to be or not. The good news about modern bed frames is that both homeowners and renters can choose the size and style they prefer.
A new style in minimalist bedroom furniture is a 12-inch bed frame that comes with no box spring. The bed then sits low to the ground and commands less visual attention when walking into the room.
Modern design is nothing if not creative and fun. Life can be very serious, so people should aim to make their bedroom someplace they look forward to visiting every night.