VyStar Credit Union Introduces the VyStar Foundation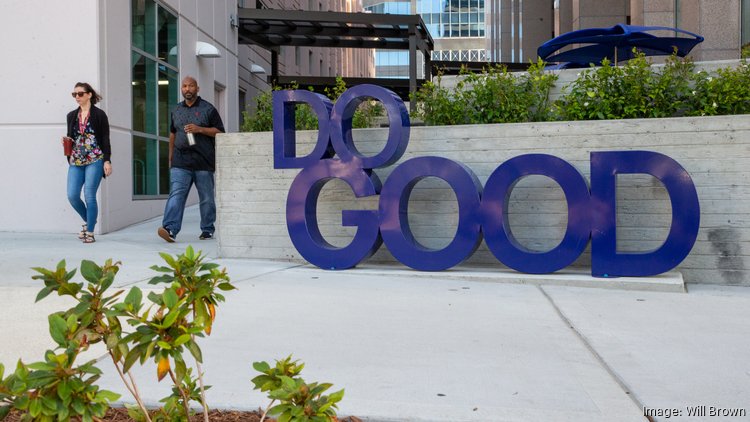 Jacksonville, Florida-based VyStar Credit Union launched at Naval Air Station Jacksonville in 1952. For over 70 years, it's been committed to championing military members, veterans, and their families through programs for members, community partners, and employees. It recently established the VyStar Foundation to serve as its philanthropic branch.
The VyStar Foundation focuses on doing good and leading by example through synergistic partnerships that assist military members and veterans, youth, and the community in the neighborhoods adjacent to the credit union's presence. It's committed to empowering others through collaborative associations and strategic grant making.
The foundation's president, Patricia McElroy, stated that the credit union's "purpose is to do good. That simple phrase describes the spirit of philanthropy that is deeply embedded in our organization."
McElroy continued, "It inspired our teams in all that we do, whether we're serving our members, volunteering with nonprofit organizations, or donating to community partners who share in our commitment to improve the places we call home."
A volunteer board of directors, consisting of credit union executives and community members, operates the foundation. In addition to McElroy, it includes the credit union's President and CEO Brian Wolfburg as chairman, chief operations officer Chad Meadows as treasurer, board secretary Diane Fears, and chief marketing officer Dana Karzan as secretary. Ultimately the board will add community members from the areas the credit union serves.
Grants Available Through the Foundation
The VyStar Foundation will make grants available to tax-exempt, public charity organizations that share the same purpose and mission with its three strategic pillars: military, youth, and community building.
First and foremost, these are intended as onetime grants. Multiyear projects are not currently being considered.
To be considered, an organization must have a minimum of one full year of program services and outcomes. It must also be located or offer a benefit to communities within any of the credit union's service areas. The foundation is looking for charitable organizations that clearly articulate the impact on the community and show how it measures, tracks, and reports one or more program results.
The foundation will ensure military members, including veterans and their families, secure the social services they need and the attention they deserve. It will empower youth by arranging equitable access to creative learning opportunities. The foundation also aims to cultivate financially strong, culturally vibrant, interconnected communities.
One of those giving pillars will receive specific funding priority each grant cycle. On March 29, 2023, the first grant cycle began and reflects the credit union's beginnings at a military air base. It spotlights nonprofit organizations that support active military, veterans, and their families. The youth cycle is scheduled to open on Aug. 21, 2023. The grant funding cycle runs two times a year.
Grants are available for organizations with either pilot or ongoing programs. Nonprofit groups that operate as part of a collaborative effort can seek funding for individual projects. The foundation also aims to support groups that deliver evidence of collaboration to strengthen resources and creatively solve problems.
The credit union offers application information sessions via Zoom to ensure everyone is educated and informed on the grant process. Organizations focusing on food and housing insecurities, mental health services, and small-business or employment counseling will receive priority funding during the first round.
Each cycle of grant funding will have a distinct focus. However, each applicant in every cycle will need to meet a minimum set of eligibility requirements. Funding amounts and the number of awards may vary based on the eligible applicants. Applying for a grant is as easy as 1-2-3.
The financial institution encourages people to review the grant cycles to learn which programs are presently available for funding consideration. Secondly, interested parties should check the criteria because each grant has distinct eligibility requirements. When ready to apply for, the third step is to complete an online application.
Applicants will be notified via email of the decision regarding their submissions. The letters, either awarding or declining grants, will include necessary information on pre-funding requirements and assorted contingencies.
Organizations that weren't picked shouldn't give up hope. Previously denied applicants can submit another application in the next grant cycle, provided it meets the requirements stated in the call for proposals.
Grantees can expect open and honest communication from the foundation. It strives to maintain contact to offer assistance and understand an organization's progress. The foundation values grantees' experiences and could connect them to other organizations accomplishing similar work. After all, the point of the foundation is to empower grantees and help them become successful.
McElroy stated, "We have seen the incredible power of what we can accomplish when we work together for the common good. I am thrilled to have the opportunity to lead VyStar Foundation to further expand VyStar's dedication to the community."
VyStar Foundation Elevates Credit Union's Humanitarian Efforts
The financial institution embraces its role as a strong community leader and trusted financial institution. The foundation welcomes all tax-deductible gifts, large and small, to continue to achieve its mission of doing amazing things for local communities, military members, and youth.
Credit union members can access great rates, low fees, and excellent service. It also comes with perks like special discounts and rewards. That's because it prioritizes ensuring all members have access to the tools they need to accomplish whatever financial and life goals they set for themselves.
Financial wellness is the bedrock of those goals. That's one reason that motivates the credit union to give millions of dollars annually to hundreds of nonprofit organizations that reflect its commitment to improving communities. It gives money to charitable organizations that share its commitment to bettering the world around the reach of its branches.
"With VyStar's support, Meridian's Supported Services for Veteran and Families Program has served more than 200 veteran families who were at risk of homelessness. Meridian is grateful for VyStar's partnership and advocacy for veteran families," stated Donald Savoie, president and CEO of Meridian Behavioral Healthcare Inc., in Palatka, Florida.
Wolfburg said the foundation's launch "will take our philanthropic efforts to new heights. As the credit union continues to grow across Florida and Georgia, the foundation will serve our new and existing communities, help us build important relationships with community leaders, and support organizations that make a difference each and every day."